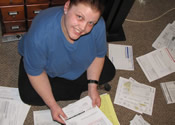 For every minute spent in organizing, an hour is earned.
-Benjamin Franklin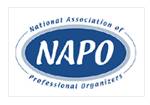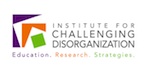 In-Home Professional Organizing - you don't need to be a hoarder to hire a professional organizer. Some of my clients are very organized and just need some assistance with one or two problem areas.
Office & Paperwork Organizing
Organizing for the Chronically Disorganized (which includes hoarders)
Phone & In-Person Coaching for Help with Organizing Issues, Problem Solving, and Improving Quality of Life
Donation services, with or without a tax receipt (if applicable), includes FreeCycle and national and local charities
Extensive research for products to meet your specific needs and space limitations
As a full-time organizer, I am available for appointments during the day, in the evenings, and weekends.
For In-Home Professional Organizing, I recommend four hour increments so that there is enough time to make some significant progress, but not so much that you get overwhelmed. When needed, less time can work, as well as larger chunks when there is more desperate need.
I offer hourly rates as well as prepaid packages for 20 and 40 hours if the project is larger.
I understand, having struggled myself, and bring my non-judgmental approach to your struggles. I am here to find a solution that works for you – your personality and style. I love the challenge of thinking of alternative ways to handle issues and find that even after a potential solution has been found, I continue to think about more approaches that could work.
I believe in helping you figure out what stays – although I might challenge you – the decision is only yours. My approach is to help you figure out how to create the life and home you want with the knowledge that you will be able to maintain it.
We start by creating a dialogue where I listen to what you want and where you are struggling. It can be your entire home, or just a room or two, and I work with all types of rooms imaginable. This starts with a visit that is part assessment, so that you can show me your space (before any cleaning up is done) and talking to me about what works, what does not, and most importantly what your hope and vision for the space is.
Next we start digging in, working together, purging items that YOU decide are not worth saving, and beginning the process of creating the environment you envision.
As an active member of the National Association of Professional Organizers, I follow the Code of Ethics that they have set forth.
Sign up for weekly blog updates and other special subscriber-only content.
Our strict privacy policy keeps your email address 100% safe & secure.